In the western plains Niigata Prefecture, lie one of the industrial hearts of Japan in Tsubame Sanjo.
With rice paddies stretching into the distance and local waterways dotted with fishermen hoping for one last catch before settling in for the evening, a visitor could easily be lulled into the notion that these cities are like any number of other sleepy countryside towns. One walk through the rust-coated streets of downtown though, and the clanging of hammers on anvils and the whirring of machinery brings forth the realization that Tsubame and Sanjo are actually cities of industry.
The area has made a name for itself in metalworking and manufacturing—housing over 5,000 small and medium-sized companies—including big names in Japanese knives like Tadafusa and Tojiro, innovators in quality camping gear like Snow Peak, and companies with rich histories utilizing traditional techniques like Gyokusendo.
For those unafraid of getting their hands a little greasy, Tsubame-Sanjo opens its doors—inviting visitors onto factory floors to provide opportunities to connect directly with master artisans and experience the joy of crafting something with one's own hands.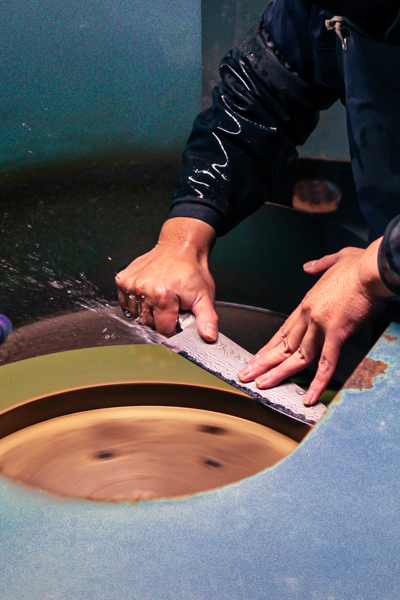 As of 2019, Sanjo City had a population of approximately 95,000, and Tsubame City approximately 77,000.
Tsubame-Sanjo produces nearly 95% of all tableware made in Japan.
Tsubame is primarily known for the production of copperware, fine engraving, and cutlery; whereas Sanjo specializes in kitchen knives, blades, and tools.
Tsubame-Sanjo is accessible from Tokyo in under 2 hours via bullet train
Products crafted in Tsubame-Sanjo have been used at the Nobel laureate dinner, the International Space Station, and at the 2012 London Olympics.
497 Shimosugoro, Sanjo, Niigata 955-0093
The origins of the Tsubame-Sanjo metal industry
The longest river in Japan, the Shinano River, runs through Tsubame-Sanjo. The Shinano River was once prone to frequent flooding, making it hard for farmers to grow crops of any better quality than that of animal feed. In fact, rice grown in the region used to be called torimatage-mai, or "bird catching rice."
To improve the livelihoods of his subjects, Seibei Otani, the regional governor during the early Edo period, came up with the idea of inviting blacksmiths from Edo (modern-day Tokyo) to teach his farmers how to manufacture traditional Japanese nails, known as wakugi, as a way to sustain themselves. What started as a side business quickly grew into the main business: within thirty years, over one thousand locals had taken up blacksmithing—no longer producing just nails, but also specializing in the production of saws, hatchets, and kitchen knives. The discovery of a nearby copper mine and the migration of craftsmen from other regions to Tsubame-Sanjo spurred further development. Soon, copper pipes, ink brushes, and all manner of hardware and tools crafted in Tsubame-Sanjo were being sold throughout Japan.
Yasushi Kawakami, Chairperson of the Niigata Guide-Interpreter Association, says, "Nearly 95% of all Japan-made tableware sold in the country today is made in Tsubame-Sanjo. And many products produced here are used internationally as well—like the silverware used at the Nobel laureate dinner, and the monument outside the main stadium at the 2012 London Olympics." With achievements of this caliber, one might expect Tsubame-Sanjo to be filled with giant factories and assembly lines. In actuality though, there are still many companies producing products by hand and utilizing traditional techniques.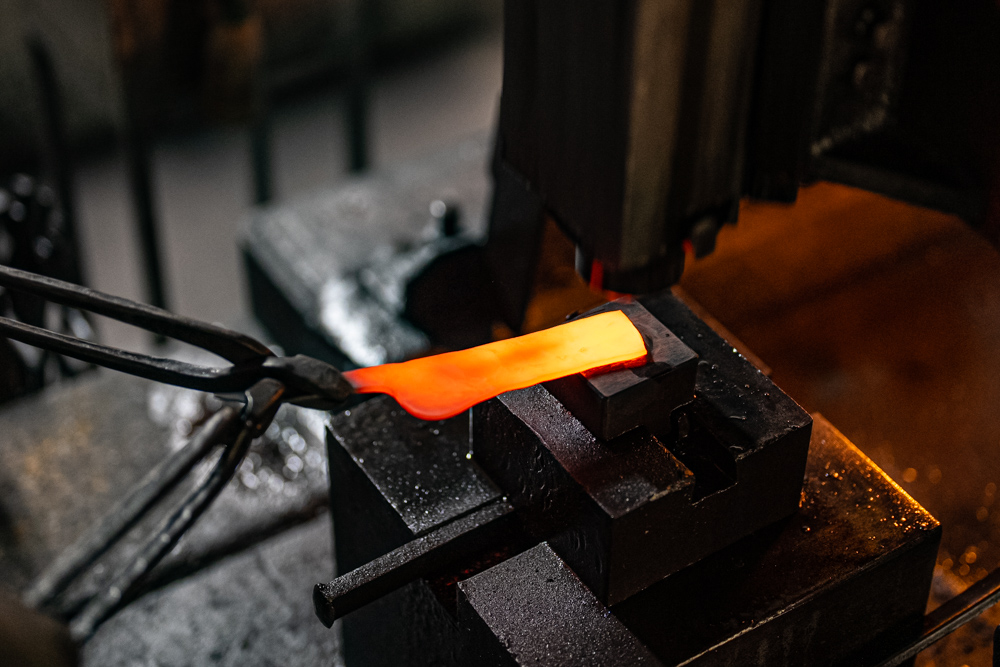 A prime example of a company still crafting each piece by hand is Gyokusendo. Founded in 1816, Gyokusendo specializes in producing tsuiki copperware using traditional hand-hammered techniques. Gyokusendo is one of a number of companies that participate in the Tsubame-Sanjo Open Factory system, in which visitors are allowed to set foot into the factories to see with their own eyes how the products are produced. "The experience of being physically in the workspace, without glass panels or doors, hearing the metal clang, feeling the heat of the fire, texture of the copper—all of that—is a moment where people can glimpse the ordinary day that our artisans inhabit," says Matthew Headland, International Relations and Initiatives Representative at Gyokusendo. He adds, "Naturally, when you come to use our copperware, you tend to slow down, take your time, and ultimately enjoy that time a bit more."
The Open Factory system wasn't designed solely for the benefit of tourists, but also for the craftsmen and artisans. "It's interesting for the artisans, who are usually dealing primarily with copperware all day long, to get a very real sense of how people interact with their pieces in their daily lives or what they think of a particular design," says Headland.
For tourists seeking a hands-on metalworking experience, there are a number of workshops offered by the Tsubame Industrial Materials Museum and the Sanjo Blacksmith Kaji Dojo, where participants can hammer copper sake cups, forge metal letter openers, engrave original jewelry, and more.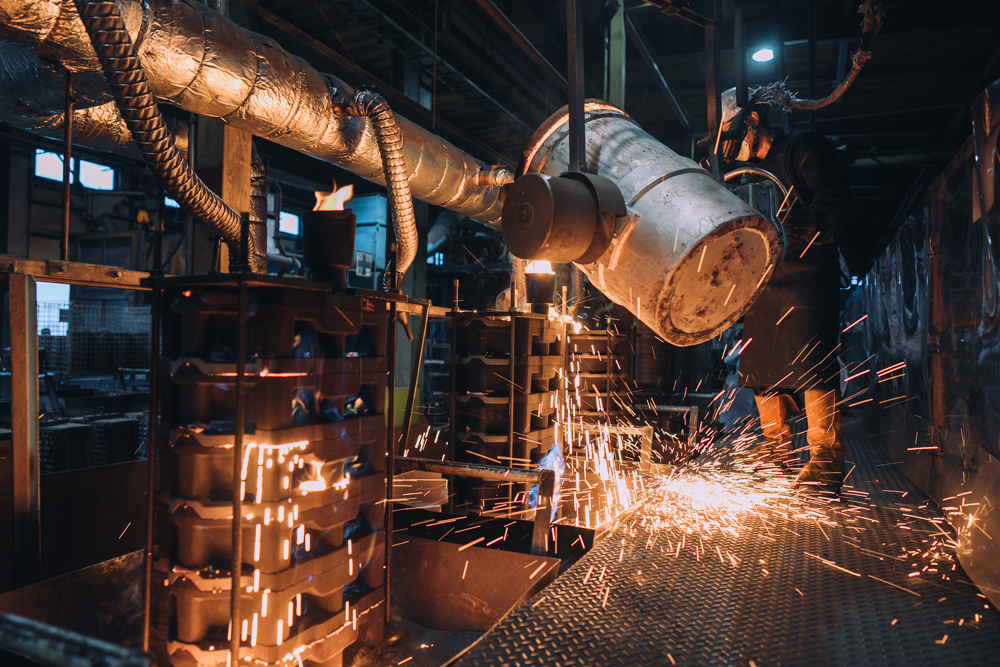 It's not hard to imagine that with all the master artisans in the area, there is a bit of a friendly rivalry between the twin cities. That competitive spirit extends to the local cuisine as well—particularly the ramen. "Sanjo has a very unique and hearty curry ramen, which is very popular, but my personal favorite is Tsubame's pork-fat ramen with the thickest slices of pork loin I've ever seen," says Kawakami.
Tsubame-Sanjo resident Valerie Spreeman recommends visitors also take time during their trip to relax and also enjoy the surrounding nature. "I think this area has a really cool blend of city and country life—you can drive ten minutes and you're suddenly surrounded by rice fields with a mountain view," says Spreeman. Whether you're interested in taking a hike (or the ropeway) up Mount Yahiko, exploring Yahiko Shrine and village, or relaxing beneath the 350-year-old wisteria at Anryoji Temple, there is plenty of nature and quaint traditional charm to be enjoyed.
When it's time to finally head home, there are plenty of shops that offer tax-free shopping, such as the Tsubame-Sanjo Regional Promotion Center and Roadside Station, making it easy for international visitors to bring home the perfect Japanese kitchen knife, hand-crafted teapot, or any number of unique products as mementos of the time they spent and the artisans they met in Tsubame-Sanjo.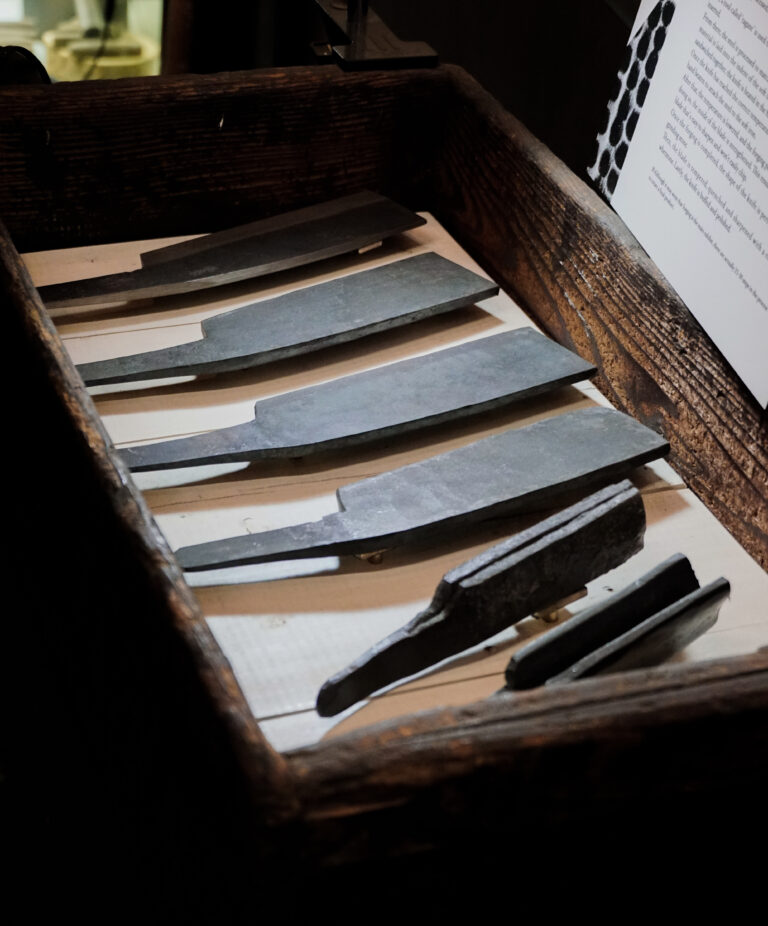 See below to see what Tsubame-Sanjo has to offer in this video we collaborated together with Jason Vong.
Elsewhere in Niigata Prefecture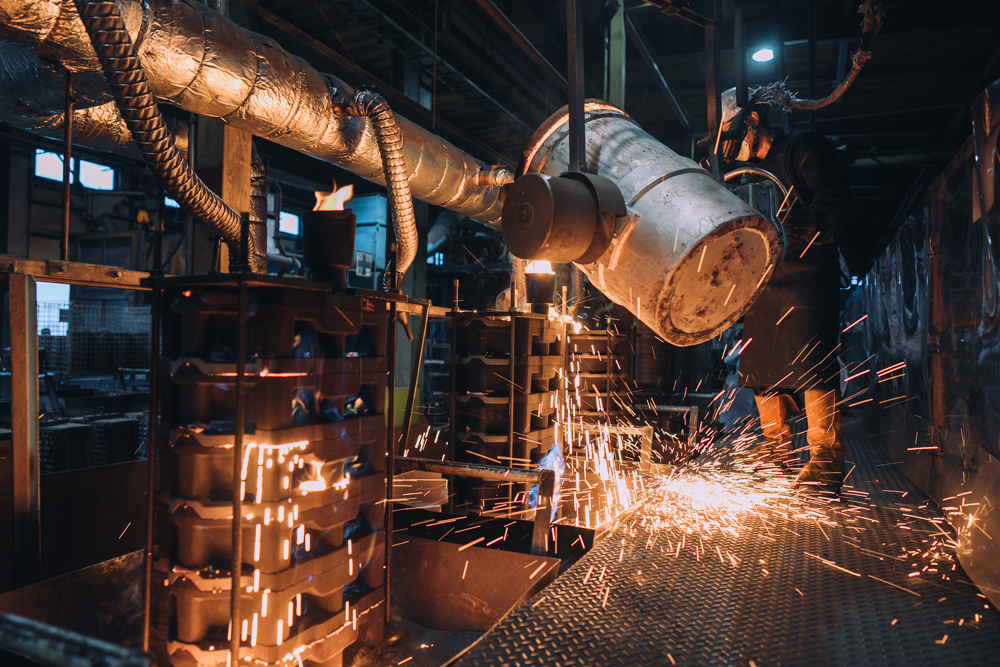 Learn about the Tsubame Sanjo area of Niigata, where approximately 95% of all tableware made in Japan is produced.
Read More »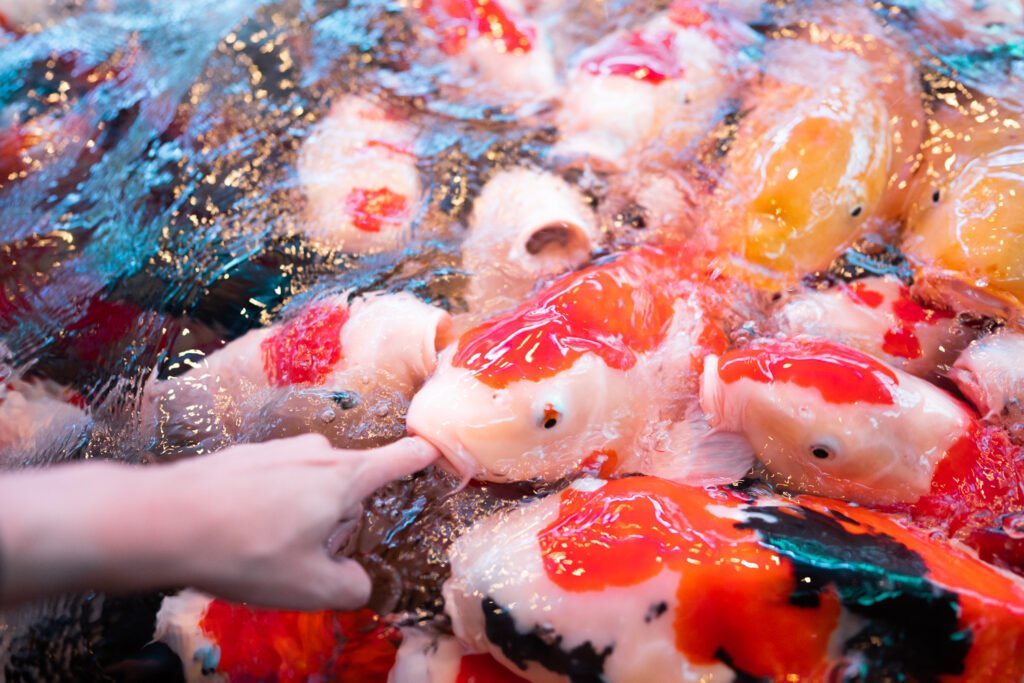 Ojiya City is the birthplace for Japanese koi, and offers unique experiences to visit koi farms like Nishikigoi no Sato.
Read More »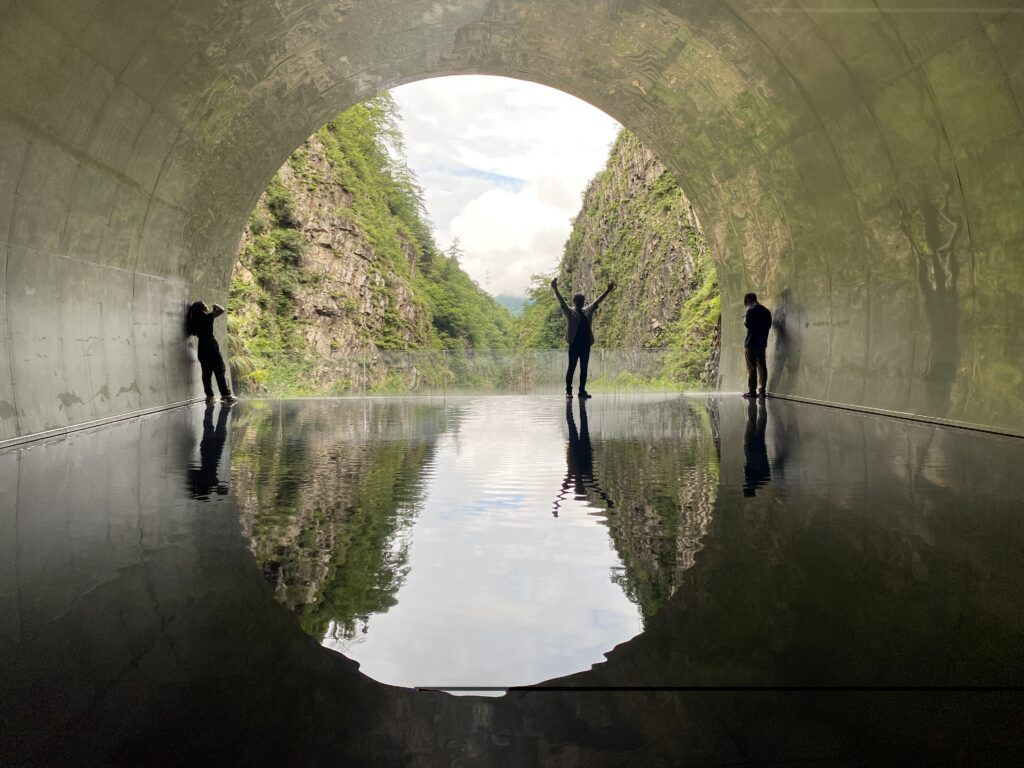 Echigo-Tsumari is home to scenic landscapes, healing hot springs, and one of the most compelling contemporary art destinations in the world.
Read More »